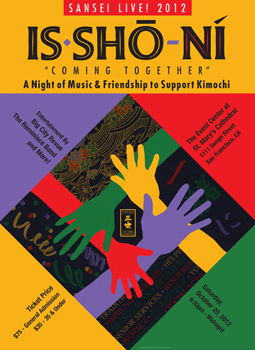 Come out for a night of yummy food, live music, lots of dancing and a great cause: Kimochi Inc!
This year Sansei Live is offering a special price — $35 for the 35 & under ($75 for General Admission)! Dress is semi-formal, so it's your chance to show off that dress/suit-jacket you've been waiting for the right occasion to wear.
We are hoping to reserve a table, so the more the merrier 🙂
Please RSVP by October 5th in order to have your name listed with Nakayoshi.
We are currently trying to figure out a way for individuals to pay for tickets beforehand, so stay tuned!
Hope you'll be able to join us!