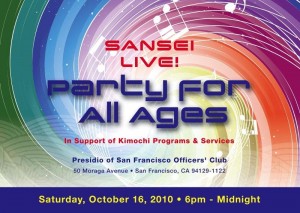 For Immediate Release
For more information call Ellen Kiyomizu (415) 305-5507, ellenkiyomizu@scorch.biz 
Excitement Growing For Kimochi's 2010 Sansei Live! Saturday, October 16, 2010
Kimochi's Sansei Live! marks a much-anticipated night of music and entertainment, cultural arts and celebration.  This year's event takes place Saturday, October 16, 2010, 6 p.m. to 12 midnight at the Presidio Officers' Club, 50 Moraga Avenue in the San Francisco Presidio. General admission $75; tickets can be purchased online at www.kimochi-inc.org or by contacting Kimochi at (415) 931-2294. All proceeds go to benefit Kimochi's culturally sensitive programs and services that allow our Bay Area elderly to live with dignity and independence.
Sansei Live! entertainment will feature Colette with Lady Red and The M.S.S. Reunion Band. Colette Ikemi's vocal range and styling spans R&B, jazz, and show tunes, and has made her one of the best known vocalists in the Bay Area. Born and raised in San Francisco's Japantown, she began singing professionally at 16. 
Throughout the late 80's and until recently, Colette has been with the acclaimed Bay Area Top 40 band, Pulse. Today, Colette is focusing on a solo career, singing jazz and R&B, appearing locally throughout the Bay Area. 
Colette will be accompanied by two bands for whom she has a heartfelt connection: Lady Red is the legendary J-town soul band that helped launch her career, and the M.S.S. Reunion Band is a group composed of her classmates from Morning Star School, the Japantown parochial school where she first discovered her love of performing. They look forward to a musical reunion at Sansei Live!
 The night's musical line-up includes always popular, EXPO and ScoJourners who are favorites of the Sansei Live! experience. EXPO, one of the few bands to feature a three-piece horn section, mixes soulful love songs and Latin rock.  ScoJourners' members are all long-time friends and are all San Francisco born and raised.  They have been making music together since 2001. Their collaboration brings together an eclectic flow of rhymes and beats that is also reflective of their Asian heritage and the San Francisco Bay Area hip hop culture. 
Robert Handa, KTVU reporter and segment producer, is long-time Sansei Live! emcee and will return to host the evening. 
The Reason For Giving
The proceeds from Sansei Live! benefit the important work of Kimochi.  Despite the growing unreliability of government funding, Kimochi remains committed to delivering culturally sensitive programs and services to Bay Area seniors and their families who depend on the help of others. That is where your help comes in. By supporting Kimochi through your time, expertise or donations, you support the dignity, health and independence of our elderly.
Kimochi provides nutritious lunches to all seniors who come to the weekday congregate nutrition program, provides for home-delivered meals, transportation services, residential and respite care, adult social day care and social services.  In 2011, Kimochi will celebrate 40 years of service to our Bay Area elderly and is well-regarded for its solid reputation as a nationally recognized community-based organization.
For more information on Sansei Live! or Kimochi programs and services, call (415) 931-2274 or visit Kimochi's website at: www.kimochi-inc.org. 
Join the Sansei Live! Pledge Club
Meet new friends through Sansei Live! and enjoy discounted pricing by joining the Sansei Live! Pledge Club.  Go to www.kimochi-inc.org to learn more about Pledge Club membership.