Hi Nakayoshi members! We've been getting back into the swing of things the past couple months, and have some fun social events (and a meeting) coming your way in October! We hope you all get a chance to check out our new website at www.nakayoshi.org and check out our upcoming events, from our Nomikai Welcome Mixer this Saturday to our second social this month at the SF Asian Art Museum's MATCHA Series event!
It is also with some sadness that we bid farewell to Megumi Kaminaga, who has served us as Nakayoshi Chair since our founding back in 2008.  We'd like to acknowledge and thank Megumi for her vision and leadership the past couple years to get Nakayoshi to where it is today. We wish you the best of luck in LA!
In this update:
10/9/10 – Nomikai Social Mixer
10/17/10 – October Monthly Meeting
10/29/10 – Social Event – MATCHA Event @ Asian Art Museum
11/13/10 – November Nomikai Social Mixer
For more event information, check the Nakayoshi online calendar at: https://nakayoshi.org/events/
Community Events:
10/16/10 – Sansei Live!
|10/29/10 – Golden State Warriors Asian Heritage Night
Saturday, October 9, 2010
Nakayoshi Nomikai Social Mixer
We hope you can make it out to our Nomikai Welcome Mixer, this time at Goemon Japanese Restaurant in SF's Inner Sunset district! In Japan, a "nomikai" is a get-together (usually over drinks) where people can meet and mingle.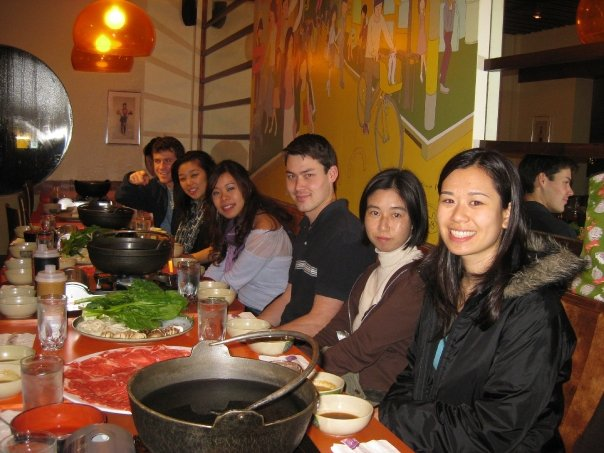 We want to take the time to introduce ourselves to our new members. Whether you're brand new and just haven't had the chance to make it to a Nakayoshi event yet, or if you're a regular and want to catch up with your Nakayoshi friends, we'd love to see you come out so we can get to know you better! The nomikai is a great place to get to know Nakayoshi regulars and to find out more about the fun social events and volunteer activities Nakayoshi puts on.
The Nakayoshi Welcome Nomikai will not only feature drinks and delicious Japanese appetizers and sushi rolls from Goemon, but a couple fun social games and mixing and mingling with other young adults from across the Bay Area!
Come join Nakayoshi for an evening of fun and celebration over great food and drinks. Don't miss it!
What: Nakayoshi Nomikai Welcome Mixer
Date: Saturday, October 9, 2010
Time: 7-10pm
Location: Goemon Japanese Restaurant, 1524 Irving Street (Between 16th and 17th Avenue), San Francisco, CA
Cost: $20/person at the door for food and beverages
RSVP On Facebook at: http://www.facebook.com/group.php?gid=30593261168&ref=ts#!/event.php?eid=154998927856534 or e-mail us at nakayoshi.ncwnp
Sunday, October 17, 2010
Nakayoshi Monthly Meeting
Nakayoshi's next meeting will be held on Sunday, October 17, 2010 from 10am-noon. Hope you can make it out and grab some lunch in Japantown with the rest of Nakayoshi core following the meeting!
Looking to get more involved with Nakayoshi? Now's your chance to come out and help out our committees set up our fun social events and community volunteering opportunities. Meetings are open to anyone interested.
What: Nakayoshi Monthly Meeting
Date: Sunday, October 17, 2010
Time: 10am-12pm
Location: JACL National HQ, 1765 Sutter St., Japantown, San Francisco, CA
RSVP On Facebook at: http://www.facebook.com/group.php?gid=30593261168&v=app_2344061033#!/event.php?eid=117773504947060&index=1 or e-mail us at nakayoshi.ncwnp
Thursday, October 29, 2010
Social Mixer at SF Asian Art Museum MATCHA Event
Like Asian art but never had the opportunity to go out with some friends? Now's your chance! The Asian Art Museum is hosting a special event called MATCHA.  What is Matcha you might ask? Well Matcha is a like a club, a learning experience and a social mixer all combined! Its like Nightlife at the Academy of Science, except with less science and more art!
Keeping in spirit of Halloween, guest speaker Brenda Wong Aoki and contemporary jazz composer Mark Izu will be performing spootacular Japanese ghost stories based on Japanese Noh theater. Stories so scary it'll knock your 'sokkusus' off!
So come join a few of us, meet new folks, bring your friends and enjoy the art. Its gonna be ARTSOME!
What: Nakayoshi Social at SF Asian Art Museum MATCHA Event
Date: Thursday, October 29, 2010
Time: 5-9pm
Location: SF Asian Art Museum, 200 Larkin Street, San Francisco, CA
RSVP On Facebook at: http://www.facebook.com/group.php?gid=30593261168&v=app_2344061033&ref=ts#!/event.php?eid=159041074119539&index=1 or e-mail us at nakayoshi.ncwnp
Cost: $10, tickets can be purchased at: http://www.asianart.org/matcha2009/tickets.htm
Saturday, November 13 – November Nomikai Mixer
Can't make it to the October Nomikai? Want another fun outing with Nakayoshi? Not to worry, we'll be hosting another nomikai in November.  Our core members are currently scouting locations in the Peninsula for those of you living outside the city. Save the date! More details TBA!
Community Events:
Saturday, October 16, 2010 – Sansei Live! Annual Benefit for Kimochi, Inc.
For more information call Ellen Kiyomizu (415) 305-5507, ellenkiyomizu@scorch.biz
Kimochi's Sansei Live! marks a much-anticipated night of music and entertainment, cultural arts and celebration. This year's event takes place Saturday, October 16, 2010, 6 p.m. to 12 midnight at the Presidio Officers' Club, 50 Moraga Avenue in the San Francisco Presidio. General admission $75; tickets can be purchased online at www.kimochi-inc.org or by contacting Kimochi at (415) 931-2294. All proceeds go to benefit Kimochi's culturally sensitive programs and services that allow our Bay Area elderly to live with dignity and independence.
Sansei Live! entertainment will feature Colette with Lady Red and The M.S.S. Reunion Band. Colette Ikemi's vocal range and styling spans R&B, jazz, and show tunes, and has made her one of the best known vocalists in the Bay Area. Born and raised in San Francisco's Japantown, she began singing professionally at 16. Throughout the late 80's and until recently, Colette has been with the acclaimed Bay Area Top 40 band, Pulse. Today, Colette is focusing on a solo career, singing jazz and R&B, appearing locally throughout the Bay Area. Colette will be accompanied by two bands for whom she has a heartfelt connection: Lady Red is the legendary J-town soul band that helped launch her career, and the M.S.S. Reunion Band is a group composed of her classmates from Morning Star School, the Japantown parochial school where she first discovered her love of performing. They look forward to a musical reunion at Sansei Live! The night's musical line-up includes always popular, EXPO and ScoJourners who are favorites of the Sansei Live! experience. EXPO, one of the few bands to feature a three-piece horn section, mixes soulful love songs and Latin rock. ScoJourners' members are all long-time friends and are all San Francisco born and raised. They have been making music together since 2001. Their collaboration brings together an eclectic flow of rhymes and beats that is also reflective of their Asian heritage and the San Francisco Bay Area hip hop culture.
Robert Handa, KTVU reporter and segment producer, is long-time Sansei Live! emcee and will return to host the evening.
Friday October 29, 2010 – Volunteer at JCCCNC Halloween Festival

The JCCCNC is looking for a few volunteers to help out again at this year's Haunted Hallway at their annual Halloween Festival for children. Volunteers in their SCARIEST costumes will be needed to SPOOK trick-or-treaters coming through the Haunted Hallway! Interested in volunteering? Contact JCCCNC Programming Associate Aya Ino at aino@jcccnc.org.
Haunted Hallway Volunteer Schedule:
5:00PM – 8:30PM: Dress up in scary costumes and work in the Haunted Hallway
8:30PM – 10:30PM: Clean up
Friday, October 29, 2010 – Golden State Warriors Asian Heritage Night
Join the Golden State Warriors for Asian Heritage Night – an evening of fun and exciting Warriors basketball at Oracle Arena! A portion of each ticket will benefit our friends at local Asian community organizations, including San Francisco Hep B Free and the AsianWeek Foundation!

Asian Heritage Night Pricing
LOWER LEVEL corner seats for only $68 (reg. $70)
Club 200 Sideline seats (row 1-9) only $42 (reg. $45)
Club 200 Sideline seats only $28 (reg. $36)
Club 200 Corner/Baseline seats for only $25 (reg. $30)
For more info and tickets, go to: http://www.warriors.com/asianheritage
All Nakayoshi events are free and open to anyone unless otherwise noted. Feel free to forward this message along to your friends or anyone interested. Not on the Nakayoshi e-mail list? Click here to subscribe. Have questions? Want to sign up or RSVP for an event? E-mail Nakayoshi at nakayoshi.ncwnp@gmail.com. For additional information and updates, be sure to check the Nakayoshi blog or find our group page on Facebook! Nakayoshi is a program sponsored by the Northern California Western Nevada Pacific District of the Japanese American Citizens League.